10/28/2020 02:00 PM Central
Kah-Mei Smith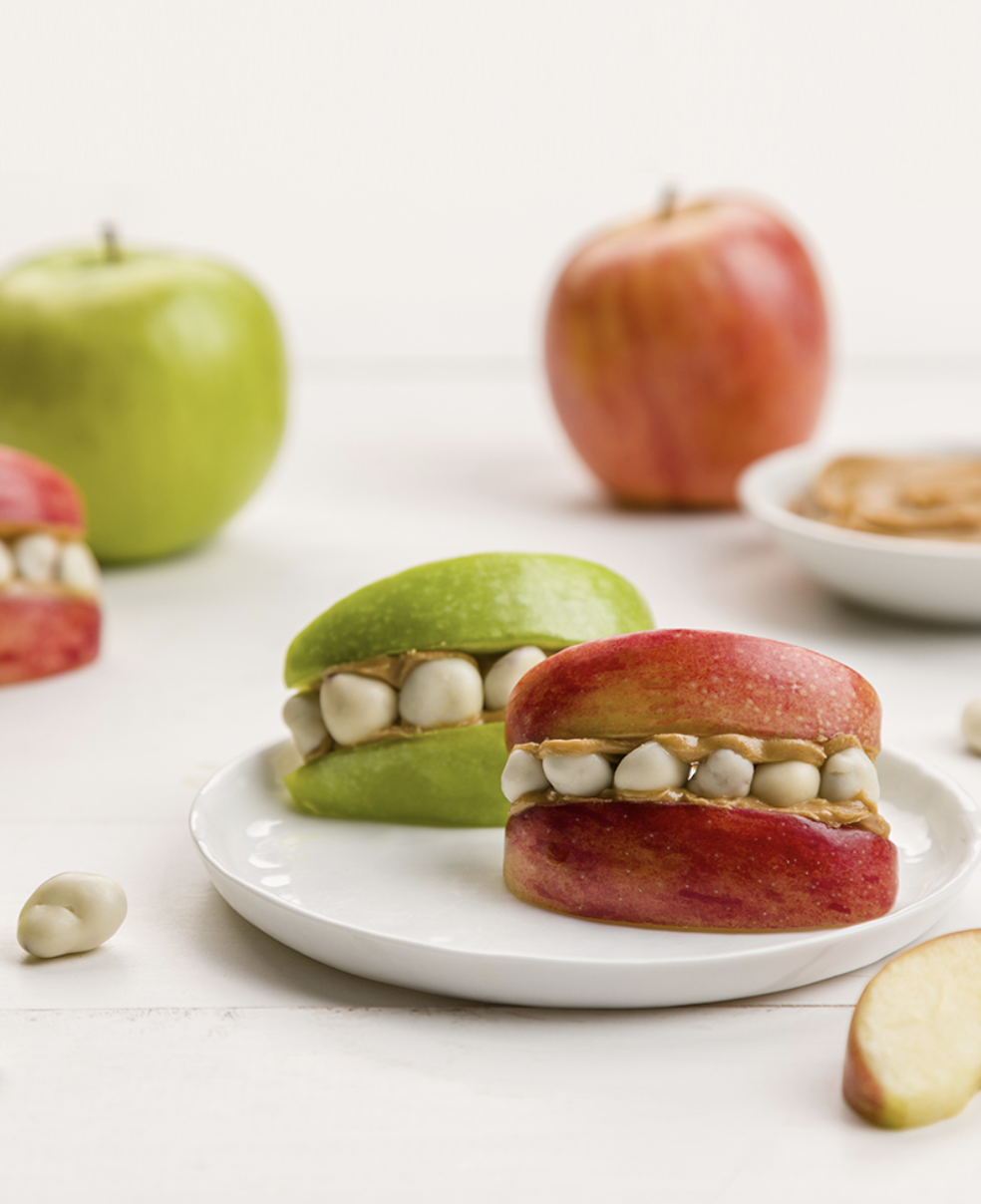 Let's make some yummy treats so good, they're scary!
OGRE'S TEETH
Yield: three sets of teeth
1 apple, red or green

Smooth nut butter

Yogurt raisin balls
DIRECTIONS:
Use Thieves® Fruit & Veggie Spray on fruit.

Halve and core an apple and cut into ½-inch slices

Take two slices and spread nut butter on one side of the apple flesh. It's okay if it gets messy!

On one apple slice, line yogurt raisins around the outside edge.

Place the other slice on top, apple peel facing out and nut-butter side angled so that it looks like a mouth.

Optional: Spritz with diluted lemon juice to prevent browning of the apple.
TASTY FRESH FRUIT SPIDER
Wooden kebab sticks

1 dark plum

Black grapes or blueberries; green or red apple chunks, green or red grapes, or most other tasty fruits will work, too.

Plastic googly eyes

Nut butter
DIRECTIONS:
Use Thieves® Fruit & Veggie Soak to clean fruit.
Gather 16 equally sized wooden kebab sticks. Break them into 4-inch sections.

Skewer grapes on eight of the sticks so that the grapes touch, leaving one grape covering one end as a connector, but leaving the other end bare to poke into the plum.

Repeat on the other eight sticks, inserting the exposed ends into the joints of the previous set of grape sticks at an angle.

Once connected, poke legs into the plum, with four legs on each side.

Gather two googly eyes and attach them to front of plum with your choice of nut butter.
ORANGE POTION BREW
2 quarts fresh apple cider

1 orange, unpeeled and cut into slices

Cinnamon sticks, for serving
DIRECTIONS:
1. Combine apple cider, orange slices, and essential oils in a large pot and simmer over low heat for 10 minutes or more.
2. Discard orange slices.
3. Serve warm. Add 1–2 cinnamon sticks to individual cups when serving.
Sep 20, 2020 02:44 PM Central
Kah-Mei Smith
One of the best things about having essential oils in your home is that you can easily create DIY projects like this one, and customize it to your preference. Here's how to create DIY scented sachets.
What you need:
½ cup uncooked rice
¼ cup Epsom salt
1 cup dried lavender buds
Muslin cotton drawstring pouches, approximately 5 inches long by 4 inches wide
40 drops Lavender essential oil
What you do:
1. In a medium bowl, mix rice, Epsom salt, flower buds, and essential oil to thoroughly scent the mixture.
2. Spoon mixture into your muslin pouch.
3. Place anywhere you want to add a fresh lavender scent.
4. Refresh your pouch every 2─3 weeks by opening it up and adding more drops of essential oil.
This recipe creates enough for two sachets.
YL tip: Instead of buying new pouches, go green and use something you have lying around! Spoon the mixture into a cute sock that's lost its mate and tie the top. If you're the crafty type, you can even sew a little bag from a scrap of fabric.
Tailor your sachets to your tastes@

The charm of the simple sachets is that you can tailor them to fit your scent preferences. You can f

ill these little packages with any dried flowers or herbs you like! Rosemary needles, dried chamomile, and cedarwood shavings are all clean and crisp smells that provide a pleasant whiff instead of a cringy odor.
Where to put scented sachets
Here are a few ideas:
Place it with other natural-looking decor on a tray in a bathroom or guest room.

Stash it in a drawer for delicately scented clothes.

Store it in a linen closet for fresh sheets and towels.

Keep it in the car to hang on your rearview mirror.

Hide it away in a gym bag to quell any odors.

Throw it in your suitcase for clean-smelling clothes while you're on the go.

Stuff it in smelly shoes to give them a refresh.

Place it in your pillowcase to surround yourself in calming aromas as you drift off to sleep.
Thank you, Young Living, for this recipe!
Sep 20, 2020 02:02 AM Central
Kah-Mei Smith
I loved this fresh and delicious concoction at the Mona, Utah farm that I have to share with you! So simple, yet so satisfying. It's a great way to use our Plus (Canada) / Vitality (US) oils.
This recipe makes 10 cups.
Ingredients
6 lemons, juiced

1 lime, juiced

½ cup honey

2 drops Lavender Plus/Vitality oil

Ice water, about 10 cups

Lavender sprigs, optional
Instructions
Add water to taste.

Stir until well mixed.

Garnish with sprigs of lavender.
Thank you, Young Living, for this great recipe!