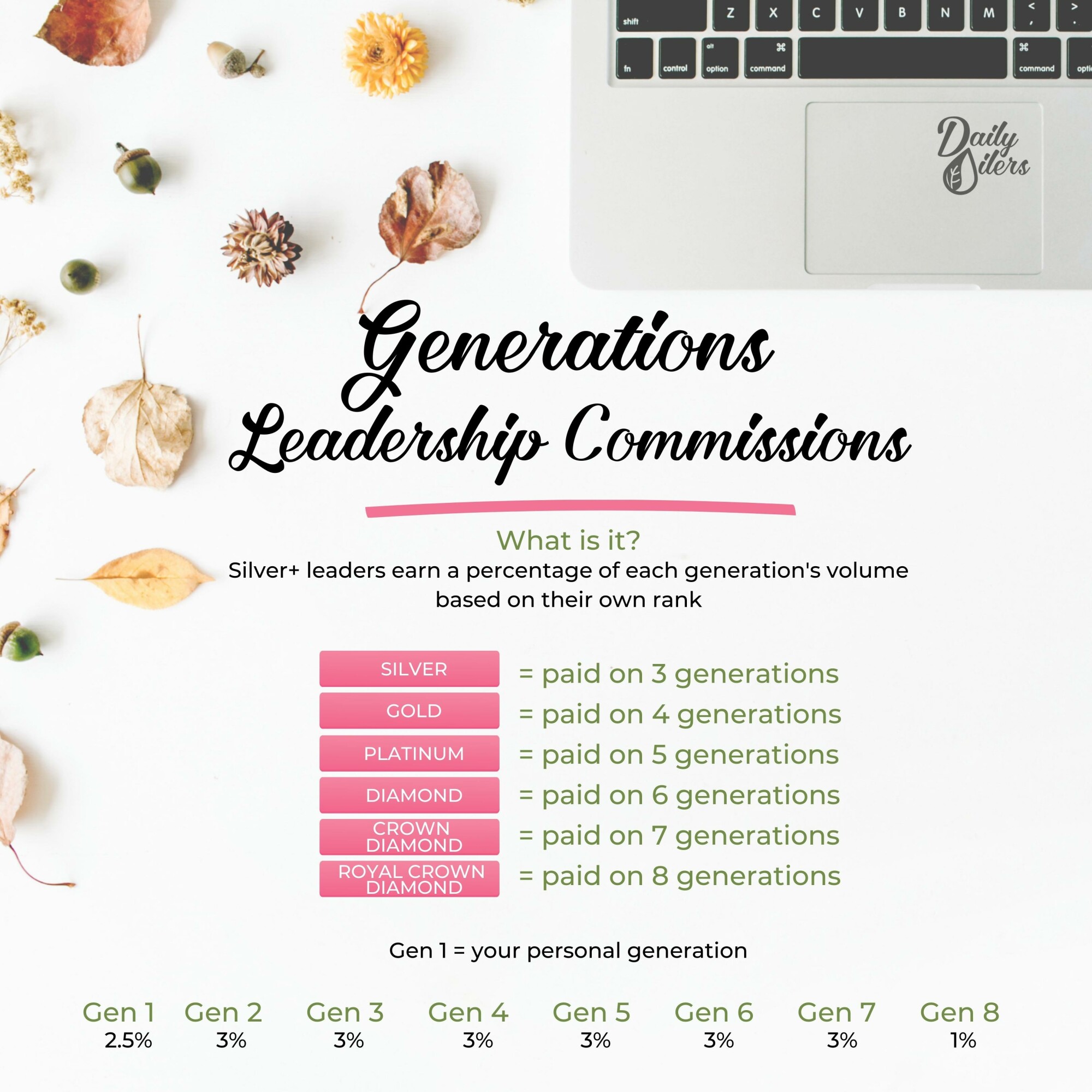 GENERATION LEADERSHIP COMMISSION
This bonus commission is paid on the total PV of all the generations you qualify to get paid on each month, based on your rank that month. Remember, it does not matter where the Silver is, on what level, on what leg.
The bonus is paid at minimum 3 generations at Silver, all the way to 8 generations deep at Royal Crown Diamond. The percentages are as follows:
So your personal generation payout would be a minimum 10,000 OGV (what is needed to be Silver) x .25 = $250 as your personal generation leadership commission.
If you are a Silver who has a Silver in your downline, their downline is Gen 2, you would earn 3% on their OGV. I've included a graphic for you to follow below. The minimum you would earn on Gen 2 is $300 (10,000 OGV x .30 = $300). The more leadership growth you help facilitate, and the more silvers you help grow, the more generations you unlock. The more rank qualifications you make for yourself, the more generations become available to you. Awesome!
While Fast Start (see above) is in play for the first 3 months of every new member you enrol/sponsor, the generation leadership commission is reduced by 70%. So if Susan is in the first 3 months, calculate every PV in her generation by 30%. If she is past month 3, you will use 100% of their PV, and calculate 3% on it if she is in Gen 3. I am so thankful for tools like YL Insight, and Oily Tools to help calculate. In the early days, when I was Silver, I had to calculate everything manually to have an estimate of what my cheque could be! Now we have these apps to help us. One other way to see where you're getting paid at is clicking on your commission in the virtual office and it will provide you with the breakdowns. You will see as you rise in ranks that Generations is where you will be earning the bulk of your commission.
DIAMOND LEADERSHIP BONUS
Very
similar
to Generation payment, this is .5% of YL's total commissionable sales shared between Diamonds per month. The average share is about $1600. Again, this amount differs each month based on that month's sales and number of diamonds+ that month.
Diamonds: 1 share (approx $1600)
Crown Diamond: 2 shares (approx $3200)
Royal Crown Diamond: 3 shares (approx $4800)